Clyde FC make statement on SFL's newco Rangers briefing
Directors of the Division Three side give their view on Tuesday meeting at Hampden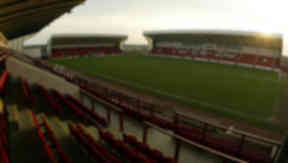 SPL chief Neil Doncaster told SFL clubs that the top league would not vote on newco Rangers if the lower league clubs did not decide the Glasgow club's fate, according to a statement from Clyde FC.
The board of the Division Three side also said that SFA boss Stewart Regan categorically told the SFL that the governing body would block any move to place Rangers straight back into the SPL, contrary to the statement made by Regan yesterday.
Clyde's directors said that Mr Doncaster was asking for "a steer" on whether Rangers would be placed in Division One and told them that the SPL would lose £16m if Rangers were out of the top league for more than a year.
The statement said: "Neil Doncaster wanted only one thing from the meeting, to get a steer from the SFL clubs whether they would allow Rangers into SFL1.
"He talked the clubs through a detailed explanation of where the SPL clubs would lose £16m next season if Rangers were not entered to the top division of the SFL. This was delivered as a matter of fact, it was a 'reality'.
"Neil Doncaster was delivering a very unpalatable proposition and he did it clearly and effectively, hence the representatives of Clyde Football Club understood that the only thing that mattered was the impact on SPL clubs from the loss of money from media and sponsors.
"The SFL clubs were given a steer for themselves by Neil Doncaster, if the SFL could not tell him how they might vote, then he would expect the SPL clubs not to vote at their meeting either."
On the contribution of Mr Regan, who denied that he had said the SFA would block the immediate return of Rangers to the SPL in a strongly worded statement on Tuesday, the Clyde board said they were in "absolutely no doubt" that he made the claim.
The statement said: "The attendees at the meeting were left in absolutely no doubt whatsoever by Stewart Regan that if the SPL clubs voted to allow a newco into the SPL then it would be blocked by the SFA refusing to transfer the SFA membership.
"It was however caveated well enough to make it less than an absolute statement. The meeting was full of implied actions and outcomes, the use of clever language when delivering the speeches allows anyone to defend with 'that is not what I said'.
"However, nobody will have left the meeting with anything other than the very clear messages being put across. Denials of the substance of the message being delivered do not assist anyone in this absolutely dreadful situation."
Clyde added that it was revealed to clubs that new entry to the league did not necessarily mean that club would go into Division Three. Legally, a new SFL club could be parachuted into Division One.