Clyde want change to SFL resolutions on Rangers' First Division vote
STV understands the Bully Wee believe the wording of the current vote to be ambiguous.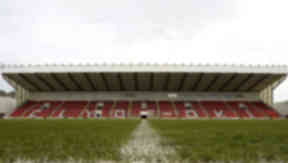 Clyde want the Scottish Football League to change the wording of the first resolution at Friday's vote on allowing newco Rangers into the league.
STV understands the failure of the SFL to include "Third Division" in the resolution is central to Clyde's concerns, with directors fearing that even if they say no in the second vote, the league will bow to the wishes of the SPL and Scottish FA and include Rangers in the First Division regardless.
Following a board meeting on Monday night, the Cumbernauld side want the wording of the matters being voted on this Friday to be amended, following confusion over who will have the ultimate power to decide which division the Ibrox club would be entered into.
At present, the first resolution to be voted on allows clubs the chance to vote on whether to admit Sevco Scotland Limited as an associate member to the league. It fails, however, to state which division Rangers would be entered into.
Resolution two asks for clubs to vote on whether to allow the team to be admitted into the Third Division, but also asks for permission to instead move them to the First Division if a compromise deal can be reached with the SPL and Scottish FA over financial and sporting concessions.
Clyde will ask the SFL to make the matters being voted on this Friday clearer, in order to avoid any confusion and incorrect interpretation going into the ballot.
Gary Ballantyne, Clyde's commercial director, told STV: "The resolutions are fundamentally flawed. What we need is to remove ambiguity and get clarity.
"We have e-mailed all SFL member clubs. I think we will get a number of clubs backing us calling for a change."
Clubs must, by league rules, submit written notice of any proposed amendment not less than 48 hours before the meeting is due to take place.
The club are expected to put out a statement later on Tuesday outlining their position. It is understood every other SFL club will receive correspondence from the Bully Wee outlining their position.