Dundee United board reveal club will vote against Rangers newco application
Following a meeting with supporters, Dundee United have said that they are opposed to allowing a new Rangers company entry to the Scottish Premier League.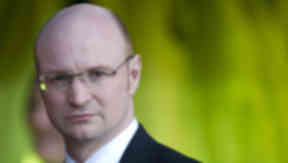 Dundee United have announced that they will vote against a proposal to admit a newco Rangers to the Scottish Premier League.
SPL clubs are set to vote on July 4 to decide if a new company set up by Charles Green can be allowed to transfer Rangers' membership of the league.
Dundee United met with supporters groups on Thursday evening to discuss fan feeling about the proposal and, in a statement released on their official website, revealed that would vote against The Rangers Football Club being allowed to take a place in the top flight.
"Following what was a robust and constructive meeting, the Club's position on how we will vote was substantiated by the viewpoint of the various supporters groups," the statement read. "The meeting finished with all in agreement as to what the correct course of action would be.
"The Board of Directors of Dundee United are unequivocal in the belief that a form of sporting punishment must form part of the reasoning behind any decision made and, therefore, cannot vote the newco into the SPL.
"General sporting integrity and, more importantly, the integrity of Scottish football must also play a significant part in the decision making process.
"It is our belief that any form of sporting punishment must be unambiguous in the message it displays."
The announcement follows confirmation from Hearts owner Vladimir Romanov that the Edinburgh club will vote against the proposal. Motherwell have revealed that they will ballot members of their fan-ownership scheme and vote on the basis of the outcome.
All 12 current members of the SPL cast a vote at their meeting in July and an 8-4 margin in favour is required to allow the new Rangers company to be admitted.
Some SPL chairmen have explained that they have been considering financial implications for their clubs as well as sporting reasons.
Dundee United acknowledged that they had discussed the implications and urged fans to show their financial support by buying season tickets.
A spokesperson said: "The financial well being of the club, both in the short and long term, must also be at the forefront of our thoughts.
"We would encourage our supporters to purchase season ticket books as a show of support to our club. The Board of Directors will act in the best interest of Dundee United and our supporters and Scottish football on this matter. The financial consequences of not showing this support for our club are extremely serious."