UEFA begin disciplinary case against Dundee United and Dinamo Moscow
The European governing body have charged both clubs after disturbances during the Europa League tie at Tannadice.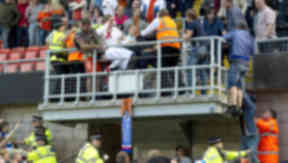 UEFA have begun disciplinary proceedings against both Dundee United and Dinamo Moscow after violence marred a Europa League match between the sides at Tannadice last week.
The clubs have been charged with two counts of breaching UEFA rules and will learn later this month if they are to face punishment.
A UEFA spokesperson told STV: "UEFA has opened disciplinary proceedings against Dundee United FC and FC Dinamo Moskva for crowd disturbances (Article 6 of the UEFA Disciplinary Regulations) and attempted invasion of the pitch by supporters (Article 11 of the UEFA Disciplinary Regulations) of Dundee United FC at the first leg of the UEFA Europa League third round qualifying match between the two teams.
"The UEFA Control and Disciplinary Body will deal with the case on 23 August."
Violence broke out in the Jim McLean stand during the first half of the match, with several fans trading blows. Tayside Police confirmed that three fans were arrested and seven ejected from the ground.
Though play wasn't interrupted, the incident was included in the report submitted by UEFA's official observer. The governing body has concluded that both clubs may have breached rules and have a case to answer.
Article 6 of the Disciplinary Regulations states:
"1. Member associations and clubs are responsible for the conduct of their players, officials, members, supporters and any other persons exercising a function at a match on behalf of the member association or club.
"2. The host associations or clubs are responsible for order and security both inside and around the stadium before, during and after the match. They are liable for incidents of any kind, and may be rendered subject to disciplinary measures and directives."
Article 11 holds clubs responsible for the conduct of their supporters both in and around the stadium and covers a range of incidents including the throwing of objects and attempting to invade the pitch.
Should either club be found guilty on August 23, a range of sanctions could be applied — with a fine being the most common punishment for similar cases in recent years.
Dundee United had already announced that they would launch their own inquiry into events and will take action against the perpetrators.
A statement on the club website said: "Dundee United is carrying out an internal enquiry into the events during Thursday night's Europa League Tie v Dynamo Moscow. Any individual found to have been involved in unacceptable conduct and damaging the club's proud reputation will face a stadium ban.
"The club continue to foster the UEFA spirit incorporated within the RESPECT campaign and actively encouraged the promotion of these values in our strategy for Thursday's match and we are extremely disappointed that the actions of one or two individuals have been seen to damage what was yet another special European night at Tannadice."