Dundee United youngster plans first-team break through after loan move
Scott Fraser has his eye on Jackie McNamara's starting XI after spending a year on loan at Airdrie.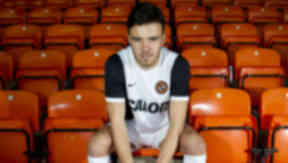 Dundee United's Scott Fraser wants to mark a decade at Tannadice by breaking into the first-team for the 2015/16 campaign.
The central midfielder has been at the club since he was 10 years old but wants this to be the year he makes an impact on the senior side.
Fraser joined Airdrie on loan last October and went on to play 30 games and score five goals for the League One side, including one just three minutes into his debut.
Now back on Tayside he's preparing for pre-season training on July 1 and wants to show what he's learnt.
"It really helped me a lot, it's given me more experience and I've learned more about the game," he said.
"I'm a player who likes to get on the ball and let others do the hard work around me but being out in that league it was more about making tackles which helped me a lot.
"I've been waiting for a while now [to break into the Dundee United team].
"I was hoping last season would be my chance but it wasn't to be so I did the next best thing and went on loan.
"I scored a few goals, made a few assists and got recognised. The real aim now is to push on and hopefully get a game here.
"I've not had time to think about a move, I'm just thinking about getting in the team first and doing well for this club.
"I've played here since I was 10, I've come through the ranks so my aim is to get into the first-team, hopefully establish myself and take it from there."