Dundee United manager frustrated by goalkeeper work permit wait
Mixu Paatelainen has been waiting to sign Japanese goalkeeper Eiji Kawashima.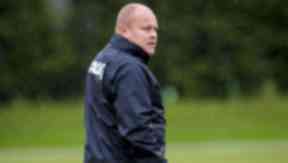 Dundee United manager Mixu Paatelainen has expressed his frustration at still not being able to sign goalkeeper Eiji Kawashima, questioning the length of time it has taken to process his work permit.
The 32-year-old, who was a key member of the Japan 2010 World Cup squad that reached the Round of 16 stage of the competition, has been on the verge of joining the club for almost three weeks.
The Tannadice side have been waiting for a work permit to be approved for the former Standard Liege shot-stopper so they can strengthen their squad and push off the foot of the Scottish Premiership.
"We have a player there that would challenge our current goalkeepers and he's not allowed to train with us," Paatelainen said. "Everything has been agreed, it is a pity the work permit takes a long time.
"Surely the systems would be a little bit more efficient and quicker, we're talking about professional people who come here, not just to Dundee United but the whole of Scottish football. We are frustrated and we are waiting but we must stay patient."
The manager was also delighted to secure the services of Gavin Gunning until the end of the season. The defender, who is returning for his second spell on Tayside, is available to play against St Johnstone on Saturday.
"The way Gavin has trained, I know he has had some big injury problems recently, but he is fully fit now and they are behind him," he added.
"He's really motivated to get back to the best level that he can, but he hasn't played too many matches recently so I don't think he's 100% match fit."