Paul Paton aims to forget tough 2015 by helping Dundee Utd survive 
The midfielder returned from a lengthy injury lay-off at the start of the month.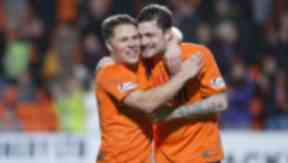 Dundee United's Paul Paton is looking to put a painful 2015 behind him and overwrite his troublesome year with success on the pitch.
The midfielder spent eight months on the sidelines, after picking up a knee injury in April, and watched his side win just five out of the 30 games.
Paton returned to the action at the start of the month when he made a late substitute appearance against Aidrie in the Scottish Cup.
He then came off the bench the following weekend against Celtic before playing his first 90 minutes in almost a year in his side's 5-1 win at home to Kilmarnock last Saturday.
The Northern Irish international also had a court case hanging over him until he was fined £500 in October for assaulting former Celtic goalkeeper Lukasz Zaluska on a night out in 2014.
Paton is now focused on putting the past behind him and helping Dundee United maintain their Premiership status.
He's hoping last weekend's hammering at Tannadice reflects a turnaround in fortunes for both himself and the club who sit bottom of the table.
"It's been very hard," the 28-year-old said. "That was the only real injury I have had. It was disappointing, I was probably out a bit longer than I had to be.
"But that's in the past now, I'm just looking for a positive future. I'm just looking at winning points for the team, that's the only thing I'm thinking about. If you think back to past frustrations you will get nowhere in life.
"It's just about a positive future and all I'm thinking about is helping the club stay in the division."