'Dundee United' is Nigerian slang for 'idiot'
An interview with a local from Lagos on a BBC documentary reveals an odd expression to describe someone with no sense.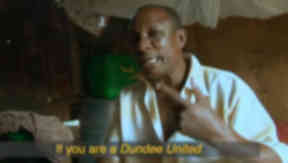 A BBC documentary into life in Lagos, Nigeria has uncovered an unusual term used by locals to mean a person with no sense – "Dundee United".
The bizarre insult was spotted by eagle-eyed fans of the club watching Welcome to Lagos last week.
The star of episode two of the programme, a Nigerian known as Chubby, uses the alternative word for "idiot" when describing life in the city.
"Anybody who came to Lagos and he didn't learn sense, he cannot get sense ever," says Chubby. "Because here if you are a fool, they will learn you how to get sense.
"If you are a Dundee United, when they start to pour s*** on you, you will get sense."
There are two theories behind how the team, third placed in this season's Scottish Premier League and in May's Scottish Cup final, came to be used as a byword in the vocabulary of West Africa's Yoruba language.
The first claims that the Tannadice club travelled to Lagos in the 1970s to play a series of friendlies against local opposition. After a number of poor results, including a 4-1 defeat by Stationery Stores FC and a 2-0 loss to Kaduna Bees, it is said the term stuck with locals who found the performances of the Scots amusing.
The second theory suggests that Dundee United became a term for an idiot or a fool when the club threw away a two goal advantage to Roma in the 1983/84 European Cup semi-final.
The Terrors were beaten 3-0 in Italy, putting the Italians through to the final with Liverpool, and it is said the foolish nature of that defeat made the football-loving population of Lagos adopt the team name.