Moneybaw II: The team of the season according to the stats
Who were the top performers in the SPL according to the statistics? We cast our eye over the contenders.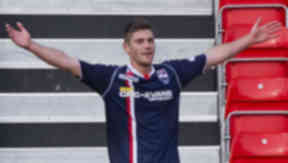 Statistics are divisive. Mark Twain famously talked about "lies, damn lies and statistics". Han Solo said "never tell me the odds".
The numbers can't possibly tell you everything, and like Vin Scully once said: "statistics are used like a drunk uses a lamppost; for support not illumination". But what if all we want to do is back a theory?
Here we attempt to take a look at some of the players who have been particularly effective this season, and have achieved feats which are worthy of a further look, if not Scully's full illumination. We've picked a team of the season, based on the numbers.
Now, if you are familiar with the first version of this stat-based analysis, which we did last season, then you'll probably already know the twist in the tale.
If you aren't, then you should be aware that there's a reason some players have been picked ahead of others, which isn't purely based on the stats. Stay with us until the end to understand why.
Equally, please don't jump to conclusions about why there's no Celtic players in the team, or why Leigh Griffiths was overlooked, or how could we possibly leave out your favourite player. That reason will become apparent at the end.
One final caveat; this is meant to be about the stats and is meant to raise some questions. It's not meant to be a definitive guide to the best players of the season, it's meant to help start the arguments.
We're going 4-3-3...
Goalkeeper - Darren Randolph (Motherwell)
The Irishman has the most impressive set of goalkeeping stats in the whole of the SPL. Of goalkeepers who have played at least 15 games, Randolph has a hugely impressive 82% save/shot percentage, putting him ahead of Jamie Langfield (80%) and Alan Mannus (79%).
Of course, some goalkeepers are better protected than others. Goalkeepers who have particularly ruthless defensive units covering them are less likely to face "unsavable" shots, from one-on-ones, unmarked opponents, etc.
Motherwell's defence was good, but their main strengths were in attack. Randolph actually faced more total shots last season than any other goalkeeper in the SPL (235), and only Dundee's Rab Douglas (7.10) faced more as an average per game (6.35).
Right-back - Tom Hateley (Motherwell)
Hateley's versatility has meant that he's been able to play as effectively at full-back as he has in a more central midfield role, with his delivery, set-pieces and ball-retention huge assets.
Six assists for the season means only Adam Matthews provided more from right-back. Three of those six came from corners.
Centre-back - Marius Zaliukas (Hearts)
The fact that Zaliukas spent the last part of the season injured only underlined how much he has been a pivotal part of Hearts' defence. With him in the side they managed to secure clean sheets in 29% of games. With Zaliukas in the side the figure jumped to 38%.
For a large part of the season he was also scoring well in the Power Rankings, ending the season with a highly respectable 4.82.
Centre-back - Grant Munro (Ross County)
Only one other centre-back was at the heart of more clean sheets in the SPL this season, and that was Celtic's Kelvin Wilson. Both men featured in 14 clean sheets this year.
Left-back - Barry Douglas (Dundee United)
Although the primary role of a full-back is still to stop the opposition from scoring, the modern left-back has to be able to contribute to attacking phases of play as well.
In this season's SPL there was almost nobody, according to the stats, who did that quite as well as Barry Douglas.
He contributed seven assists this season (comparable with Charlie Muglrew or Emilio Izaguirre), with only Adam Matthews offering more in the whole division. A solid shot accuracy (60%) doesn't hurt his cause either.
Midfield - Iain Vigurs (Ross County)
A good midfield should have a balance between ball-retaining abilities, defensive solidity and support options.
Vigurs has not only scored seven times this season, but he's created nine goals, as well as being a regular feature of our Power Rankings.
Vigurs also took more shots than any other central midfielder, with an impressive 55% accuracy, and was the second most fouled player in the SPL this season (61).
With 21.81 he was the highest ranking midfielder, and finished seventh overall in our Power Rankings this season.
Midfield - Andrew Shinnie (Inverness CT)
Inverness deserve huge credit for their attacking play this season, and no small amount should be reserved for Shinnie, who scored 12 and assisted in seven goals last season.
That means he was scoring or setting up a goal every two games last season. A 57% shooting accuracy adds to his achievements.
On top of all this, Shinnie was by far the most fouled player in the SPL last season (93).
Midfield - Isaac Osbourne (Aberdeen)
With two such attacking options in midfield, we want to balance that with a holding player who will protect the defence.
It might sound counter-intuitive, but giving away fouls without picking up bookings suggests a player who can break up play, is largely defensive and is generally the right side of cynical in challenges.
No defensive midfielder who played more than 15 games had a lower ratio then Osbourne (a booking every 13 fouls).
Equally, in games he featured for Aberdeen they recorded clean sheets 47% of the time. Without him that figure dropped to 22%.
Right forward - Aaron Doran (Inverness CT)
This is for fairly simple reasons. Only Henrik Ojamaa (16) has created more goals this season than the former Blackburn man, who has 12 assists for the season.
Centre forward - Michael Higdon (Motherwell)
Again, this one is all about the most important statistic of the lot. Michael Higdon scored 26 goals last season, and in the history of the SPL only two other men have managed to reach such a total. They are Henrik Larsson and Kris Boyd.
Of course, that's not all he brings. With a single out-and-out striker formation you want a player who can not only score goals, but lead the line, feed off scraps, hold up the ball and other cliches.
A 57% shot accuracy suggests Higdon is very careful with his chances, but a 24% conversion ratio (he scores 24% of the shots he takes) is particularly interesting as it highlights his abilities as a traditional number nine. Those who take more shots from distance have lower conversion and accuracy ratings.
As for offering a physical presence, no player in the whole of the SPL gave away more fouls last season than Michael Higdon (65).
Only Niall McGinn (26.85) scored more in total in our Power Rankings than Michael Higdon (26.60) this season.
Left forward - James McFadden (Motherwell)
Although he may only have played a brief cameo in Motherwell's season, the way in which his arrival related to their best run of the season cannot be just a coincidence.
The statistics are impressive. McFadden played just 13 SPL matches for Motherwell, scoring five goals and setting up a further four. That's a direct contribution to a goal every 105 minutes.
A 60% shooting accuracy with 18% conversion rate for his chances, shows he was pretty lethal as well. McFadden only played one third of a season, but finished 26th in the season-long Power Rankings.
Reasoning
If you were with us last season, you'll know where we're going with this. If not, then there's a reason we picked this particular side. Each of these players are, or were, out of contract this summer. This squad could be put together for next season for a transfer outlay of nothing.
Obviously, it's not that perfect, and there's far more to it than simply identifying and bringing in an individual player, but this proves that there's bargains to be had.
Many of the players highlighted in this particular example are at teams who can't afford to pay huge wages. Even in the relative financial paucity of the SPL, there are some highly talented individuals.