Craig Levein wants Liverpool starlet to switch to Scotland
Jonjo Shelvey has been capped for England at youth level but is eligible to play for Scotland.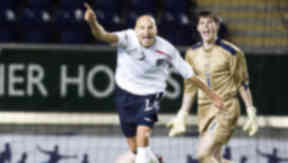 Craig Levein has revealed that he wants to persuade Liverpool midfielder Jonjo Shelvey to play for Scotland.
Shelvey has played for England at under-16, 17 and 19 level but has not played for the full senior team in a competitive international.
The 21-year old has a Scottish grandfather and so could play for Scotland, a decision Levein hopes to convince him to make.
"We've been in touch and we are hopeful," the national team manager confirmed to the Scottish Sun.
"As usual, we will continue to try and unearth as many players as possible to be able to play for us.
"We want as many good players as possible to be able to play for us."
Shelvey made his breakthrough at Charlton before moving to Liverpool in May 2010. He made 21 appearances for the English Premier League side last season and has been on loan at Championship club Blackpool this term, scoring five goals in eight matches so far.