Dunfermline Athletic 'could go out of business in two to three weeks'
Jim Leishman says the Pars owe HM Revenue and Customs £134,000.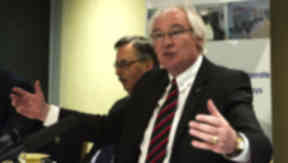 Dunfermline Athletic could be out of business within "two to three weeks", according to Jim Leishman.
The Pars owe £134,000 to HM Revenue and Customs in unpaid taxes. It is understood this amount is not due in one full payment.
Former player, manager and latterly director of football Leishman is to lead a group set up to try and save the First Division club.
"It is a very real threat that the Pars could go under," Leishman said at a news conference on Wednesday.
He added: "It's the hardest thing I've ever done at this football club, it's the hardest thing I've got to try to achieve.
"Will I do it? I don't know. But I can't do it by myself, that's for sure.
"I've got a short period of time - maybe two weeks, maybe three, maybe four. I've got to remain positive.
"It's about the short-term survival of Dunfermline and the long-term future of the football club."
He called on supporters to get behind his efforts to save the East End Park side, adding: "The community of Dunfermline, the supporters of Dunfermline, have been divided.
"We are not a big enough club to have factions that are going everywhere. We can't be divided, we've got to be together.
"I want the club to be here for my grandchildren.
"We need money. There are pledges coming in. If we can get past the next two weeks, then the evolution starts again and we start to build for the future."
Gavin Masterton, the majority shareholder, is to stand down from the club's board, with the Leishman-led group taking over day-to-day affairs.
Players have been paid 60% of their February wages, with no promise of when the full amounts will be settled. £35,000 is owed in total to employees.
Manager Jim Jefferies said the past few months had been tough on the playing staff. He said: "It's just gone on and on and on. There was always going to be a time when we dealt with it early on but there was always going to be a time where it really hit home.
"It's hit home to the players drastically in the last pay day."
Following their relegation from the Scottish Premier League in the summer, the club were paid £250,000 as part of a two-stage parachute payment.
The second installment of £125,000 wasn't due until next year but the league agreed to pay an undisclosed part of that to the club earlier this year.
The club were also subject to a Notice of Complaint from the Scottish FA on Tuesday, accused of withholding nearly £6,000 in gate receipts due to Hamilton Academical from their Scottish Cup fifth round tie in February.