PFA chief and Dunfermline boss welcome appointment of administrator Jackson
Fraser Wishart and Jim Jefferies hopeful redundancies can be minimised at the Pars.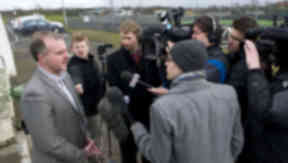 Players' chief Fraser Wishart and Dunfermline boss Jim Jefferies have both welcomed the news that Bryan Jackson will be appointed administrator at the club.
Wishart, the chief executive of PFA Scotland, addressed the Pars players at their training base on Tuesday to explain the potential impact the administration process will have on them.
He said: "At least there is some kind of clarity to the situation and we welcome that.
"I'm pleased it's Bryan Jackson, somebody I have worked with many times before and who knows the football game inside out.
"We will be looking to have a meeting with Bryan Jackson in early course to work out a good course of action that will hopefully protect all our players' jobs."
The loss of players through redundancies is one potential impact on the club but Wishart stressed that job losses are not always the case in administration.
He added: "There is more than one way of dealing with a potential drop in income and a potential drop in outgoings that the club has to get to."
Jefferies thanked Wishart for his advice and said that going through administration was a new scenario for him and the players.
The former Hearts and Kilmarnock manager said: "We learned a few things in there, what can happen.
"The good news for the players, the boy that has been appointed, Bryan Jackson, has worked with other football clubs and players, so Fraser has got a good working relationship with us.
"It has been pointed out to us that Bryan takes on a commitment to get the rest of the debt frozen and then he has to go to the Court of Session and try to work out a deal with HMRC. There is still a danger we can go into liquidation.
"But I'm sure there will be other people working with the administrator to make sure that doesn't happen."
The club are believed to have other creditors while players and staff were only paid a fraction of their wages last month.
But most of the circa-£8.5m debt associated with the club is owed to majority shareholder Gavin Masterton and other directors.