Live coverage: Interim order granted to put Dunfermline into administration
Interim administrator Bryan Jackson of PKF has rated the club's chances of survival as 50/50.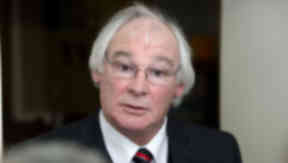 Dunfermline Athletic have been granted an interim order by the Court of Session to put the company into administration.
Lord Hodge granted the order on Tuesday afternoon, setting a date of April 11 to decide on whether to grant full administration.
Club legend Jim Leishman stated on Tuesday that funds had been found to appoint PKF as administrators, subject to court approval.
Speaking to STV reporter David Cowan about the club's chances of survival, Bryan Jackson said: "The best I can estimate is 50/50 because there's a really tight cash flow but I wouldn't have taken the job on if I didn't think there was a good chance of coming out the other end.
"My gut feeling is there will have to be some pretty brutal cuts and I'd aim to do that as quickly as possible."
STV will have live updates through the day as the Pars seek confirmation they will be given protection from their creditors by the court, and ensure Wednesday night's game with Falkirk goes ahead.
Click on the box below for updates.