Dunfermline granted interim administration order at Court of Session
Dunfermline Athletic Football Club have had the appointment of administrators approved by Lord Hodge.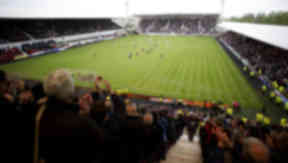 Dunfermline Athletic have had the appointment of administrators approved by the Court of Session, securing their short-term future.
The application had been made ahead of a deadline to pay a £134,000 debt to HM Revenue and Customs or face liquidation proceedings.
At the Court of Session on Wednesday afternoon, Lord Hodge granted the request with an interim order, setting the date of April 11 for a hearing to grant full administration.
Insolvency expert Bryan Jackson of administrators PKF will now take over the day-to-day running of Dunfermline's affairs. The SFL match against Falkirk at East End Park will now go ahead on Wednesday evening as scheduled.
At the hearing, lawyers representing Dunfermline had said that administration would create a moratorium protecting the club from a winding-up order lodged by HMRC and would allow time for discussions over the debt.
Solicitor Mr Duthie, acting on behalf of the Fife club, said: "There has been discussions with the company and HMRC. I am not sure what stage those talks have reached.
"Administration will achieve the purpose of paying the company's debts and preserve the company as an ongoing concern. Failing that, it can achieve a better result for creditors as a whole."
Mr Duthie also indicated that a group is interested in buying the club from owner Gavin Masterton, who is willing to sell his 94% shareholding to them.
However that could only be achieved after a company voluntary arrangement (CVA), meaning the club will not be bought out of administration.
Dunfermline's representative told Lord Hodge: "A third party has indicated it's ability to buy the company and Mr Masterton is open to this."
Lord Hodge replied: "The survival of the company as a going concern must be through a CVA, otherwise it would not make sense to pay a significant sum for these shares."
Following the court's decision, majority shareholder Masterton issued an apology via the club's website.
He said: "Despite my concerns regarding events over the past six months the ultimate responsibility stops with myself.
"I want to personally apologise to all who will now be upset and damaged by today's announcement. Money and jobs will inevitably be lost but everything will be done to ensure a rapid return to normality."
A spokesman for the Scottish Football League said its board would need to meet to discuss the developments at East End Park.
No set sanction is provided in the SFL rule book, but a club entering administration or taking steps to enter administration is punishable by whatever steps the league sees fit – including the deduction of championship points.
The SFL spokesman said: "In such circumstances we would normally be informed by the administrator and then meet with them.
"We would then look at the case on its merits."