Falkirk say allowing newco into Division One is 'totally unacceptable'
Club chairman Martin Ritchie claims a weakened newco Rangers would be able to outspend their rivals.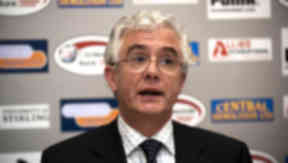 Falkirk chairman Martin Ritchie has voiced his club's opposition to any plans to allow a newco Rangers to enter the First Division next season.
On Monday, the SPL confirmed it would hold a meeting of all clubs early next month to decide on the application to transfer Rangers' SPL member share to a new business entity, currently called Sevco 5088 Limited.
At the meeting the clubs can decide if the deal can go ahead after Rangers FC plc failed to survive once it was plunged into administration with debts of up to £134m.
As a First Division club the Bairns have no say on the July 4 vote, however if the vote does not go in the newco's favour, Green will be forced to consider an application to join the Scottish Football League.
The suggestion of the club starting life in the First Division hasn't gone down well at Falkirk with the club releasing a statement to clarify their position.
Mr Ritchie said: "The board at Falkirk FC strongly believe the current turmoil should be a catalyst for change in Scottish football.
"League reconstruction, First Division play-offs, a fairer distribution of the game's wealth and the ending of undemocratic voting systems should be the minimal levels of change.
"It would be totally unacceptable if a Rangers newco were admitted to the First Division on the current rules.
"Even a weakened Rangers newco would have resources that far outstripped all the other First Division clubs and this would pretty much guarantee them promotion before the season even starts."
Manager Steven Pressley has made several calls for widespread reform of the game across the country.
And Ritchie hit out at the actions of other clubs who have faced financial difficulties, adding:
"Fairness is not a word often quoted in the current situation.
"However I think it is worth reminding everyone that when Falkirk FC were faced with provisional liquidation in 1998, the new consortium of owners paid every creditor (including the Inland Revenue) in full, ie 100 pence in the pound.
"If we had gone down the route taken by many clubs since then, paying only a fraction to their creditors, we would have had the resources to accelerate the development of our stadium and make an earlier return to the SPL.
"Any decision taken by our board will be made in the best interests of our club and of Scottish football."