First Division clubs push for league reform 'as soon as possible'
A meeting of all First Division clubs has discussed league reconstruction and hope for immediate change.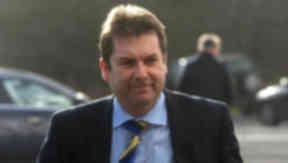 First Division clubs have said that they are still pursuing changes in the Scottish game before the start of next season.
Plans for wide-ranging change including league restructure and financial redistribution were sunk by a Scottish Premier League vote last week, prompting the top flight of the Scottish Football League to meet independently to discuss immediate change.
The clubs met on Monday night at New Douglas Park, the home of Hamilton Academical, and were joined for part of the meeting by SFL chief executive David Longmuir, who presented his board's suggestions for change.
Following the meeting, the clubs issued a statement saying they were looking to continue progress towards change in the very near future.
The statement read: "A meeting of clubs (10 SFL1, plus Dundee and Queen of the South) took place, with David Longmuir also present for the first part of the meeting.
"The clubs still feel there is a willingness for change and a window of opportunity still exists to agree on a way forward, and what can be accepted for the benefit of all 42 clubs.
"Accordingly, a small working group will seek to discuss with the relevant bodies how we can best progress the way forward as soon as possible."
The First Division clubs are concerned that the proposals rejected by the SPL included financial changes that would have seen them benefit by six-figure sums next season.
Some have warned that full-time status is at risk if changes is not made soon.
The video above has little sound and shows the arrivals of SFL chairmen and chief executive David Longmuir at the meeting at Hamilton on Monday.