Neilson: Hearts won't jeopardise finances to chase league success
Head coach happy with his squad and will not make demands if club is still challenging in January.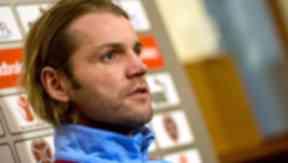 Robbie Neilson has promised Hearts will not throw money at the squad if they are still challenging at the top end of the Premiership come January.
The capital side sit six points behind leaders Celtic and a point above Aberdeen in the table, just months after winning promotion back to the top tier of Scottish football.
But head coach Neilson has shot down any suggestion that he could ask for more money to sustain a challenge when the transfer window opens in the new year.
Mindful of the year Hearts spent in administration after an era of financial abandon in Gorgie under successive owners, Neilson said that the budget would be adhered to – and in case he is happy with the players he already has at his disposal.
Neilson said: "We're not going to get carried away and fall into the problems we had previously by chasing things and over-spending.
"The club's got a budget and we'll stick to that. If there is money available in January then it'll beavailable but it will only be used if I feel I need to add to the squad.
"At the moment I don't think I do.
"We are not going to start chasing things. It is important that we are stable and we build slowly.
"Everyone is ambitious but we have to be realistic as well. 'Ambition' got us in to the place we were a year-and-a-half ago.
"They were unrealistic ambitions and we lived outwith our means and we can't do that again.
"The club is now stable and it is not going to get into that position again.
"We would love to go and challenge but this has to be a period where we build to a place where we can challenge in the league but it is not going to put us in jeopardy."