Title play-offs could work in Scotland says Hearts striker John Sutton
Former Central Coast Mariners striker thinks shake-up could create fresh interest in SPL.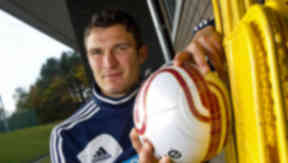 Hearts striker John Sutton believes the SPL should follow the example of Australia and introduce championship play-offs at the end of each season.
Sutton was a victim of the A-League system during a loan spell at Central Coast Mariners last season when his team finished top of the table but lost out to Brisbane Roar during the play-offs.
However, he still found himself becoming a fan of the format.
Hibernian, Aberdeen and St Johnstone all have the chance to go top of the SPL tomorrow but Celtic remain odds-on favourites to retain the trophy following the loss of Rangers.
Hearts boss John McGlynn this week claimed the SPL was exciting without Rangers and could thrive even more without Celtic, but Sutton feels play-offs would create fresh interest while retaining the attraction of the Glasgow sides.
Sutton, whose team face Dundee at Dens Park tomorrow, said: "The manager made a good point in saying it`s probably a bit more competitive and tighter but going back a few years there was an idea coming from this club about the play-offs at the end of the season.
"That could serve both camps - you have your league champions but for other teams like Hearts and Motherwell you can still walk away having won the main tournament at the end of the year.
"You only have to look at when Celtic visit Tynecastle, the place is absolutely rammed.
"If you can imagine that for a game to get to Hampden for a Grand Final, it would be an even bigger match.
"They did that in Australia. It was a bit unfortunate for myself because we won the league.
"You get a bit of credit for that and a trophy but everyone soon forgets about that and you go into play-offs.
"It might not be the fairest way in the world, that the top team over the season doesn`t win, but it certainly creates a lot of excitement.
"With regards Scottish football, Celtic and Rangers have these massive fan bases and it`s hard for clubs to compete financially. But on our day I think we can do."
Sutton revealed his team`s league win was soon overshadowed as the Grand Final takes precedence in Australia.
"We needed to win our final game of the season to win the league," he said.
"You would have thought that would have been the climax of the season.
"It was exciting and we were really pleased to win but that all got forgotten about pretty quickly and it was straight to the play-offs. It was a great occasion."