'Majority' of Hearts first team players agree to defer their November wages
Stars strike deal to wait for their pay packets but details of arrangement remain confidential.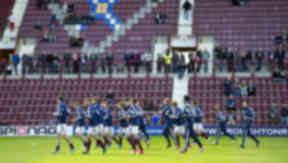 The majority of Hearts first team stars agreed to defer their November wages to help out the club.
Hearts announced on Tuesday night that wages for the month had been agreed to be deferred as the Edinburgh side battles to pay a tax bill of £450,000.
The club has confirmed that the majority of the top team players at Tynecastle have agreed to this deferral, including the senior players.
However it is not clear when the pay will now arrive, or what the details of the deal struck with the players are.
A spokesman for Hearts said: "The majority of the first team, including senior players, agreed to the wage deferral.
"Details of the deferrals remain confidential."
The voluntary wait to receive their November money does not invoke the same sanctions from the Scottish Premier League as a late wage payment.
Hearts are under a registration embargo until December after paying their staff late twice this season, but the new deferral announced this week will not constitute a "remuneration default" in the eyes of the SPL.
A spokesman for the league said: "The wage deferral at Hearts is a contract amendment and therefore does not commit a remuneration default."