Danny Wilson has no regrets over leaving Rangers for Liverpool
Wilson says he has improved as a player since moving to Anfield as he checks in for Hearts loan.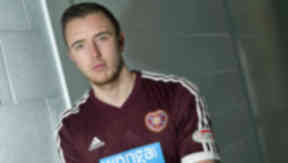 Hearts new boy Danny Wilson insists he has no regrets about leaving Rangers to sign for English giants Liverpool, despite failing to break into the Anfield first team.
Wilson departed Ibrox in 2010, aged just 18, to sign a three year deal with the five time European champions.
The move failed to pay off in terms of first team football for Wilson as he made just nine top team appearances between loan spells with Blackpool and Bristol City.
But the left footed defender, who has collected five Scotland caps, said he has no regrets about moving to Merseyside.
Wilson said: "I wouldn't say it backfired. I didn't play as much as I hoped down there but it served its purpose.
"I left Rangers with the intention to become a better football player and I feel I've done that.
"I don't think you can regret anything, I made the decision and I've got to stand by it."
Wilson made a quick debut for Hearts, starting in the 4-1 defeat at Celtic Park on Saturday, and says he has to take his opportunity like any other player in the team.
He said: "In years gone by there have been top players at Hearts and there's still top players here but not on the same scale of numbers.
"These young players have got an opportunity and they need to take it and I'm in that category as well.
"If I'm given the opportunity I need to make sure I take it."
With his Liverpool contract up in the summer Wilson will be on the lookout for a new team at the end of his spell at Hearts.
Asked if he could see himself remaining at Tynecastle, Wilson said his only concern for now was to establish himself in John McGlynn's line-up.
He added: "I'm a footballer and I need to play football. I will be out of contract and it is better for me to be playing.
"Whichever way you look at this, as a shop window or to do well at Hearts, I'm here to do both so hopefully they can marry together.
"I need to do well here first and foremost. I couldn't come here on the assumption that I'm here for a few years.
"Whatever happens, happens. I'm just here to play and the next few weeks and months are what is most important to me."