Jason Holt ready to thrive at Hearts under the man who discovered him
Tynecastle youngster was noticed by John McGlynn as a nine-year-old local talent.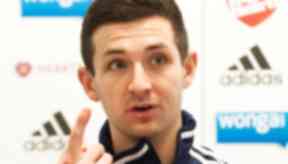 Teenager Jason Holt was always confident he could break into the Hearts first team when the man who spotted him as a nine-year-old was appointed as manager last summer.
The 19-year-old midfielder has become a regular in recent weeks as manager John McGlynn continues to increase the contingent of academy graduates in the first team.
Then a Tynecastle coach, McGlynn was the man who tipped the Hearts youth department off about Holt when he was playing for Musselburgh Windsor boys' club and later gave him his first start in senior football during a loan spell at Raith Rovers.
McGlynn's faith in youth paid off in style when a starting XI featuring seven players aged 21 and under took Hearts into the League Cup final, and they face Dundee United on Saturday unbeaten in three games.
Recalling his first encounter with McGlynn, Holt said: "I was about eight and playing for my local team. Then Hearts came in when I was about nine and just took it from there, went into the academy here and that was it.
"It's been brilliant. Any boy growing up, if they were asked if they wanted to play for the team they supported, they would jump at it, so I'm really grateful for the opportunity.
"When he was appointed, all of us knew that we would get a chance at some point. It was just a case of working hard.
"He said before if we were doing well we would get a chance and he has proved that with the amount of youngsters in the team."
McGlynn revealed Holt's natural talent was obvious a decade ago.
"He is technically a very good player," McGlynn said. "I first saw him when he was playing for Musselburgh Windsor and we managed to get him to Hearts.
"You could see the potential that morning. He was sticking out a million miles, you could just see he was a good football player.
"He could take the ball and move the ball very quickly. He had an awareness that was beyond his years.
"In the style of play we are playing Jason Holt will be a revelation. We are playing some good football and he is thriving."
McGlynn's semi-final gamble paid off and Holt believes that is down to the new introductions feeling comfortable with each other and in themselves.
"People like Jamie Walker and Fraser (Mullen), we have come up since 12 years old," Holt said.
"We have played with each other for a while and it's great to play with them.
"When you look around and see so many young boys, it's great and great for the club as well going forward.
"In the semi-final, great credit for the manager for having so much faith in us, and we did the job on the day. We know each other's game inside out and it helps."
Holt, who had made three appearances for Hearts before McGlynn took over, added: "It's a bit of a jump. Last season we were used to playing under-19 games but when you get in you need to take your opportunity. A lot of the young boys have done that.
"The opposition will be thinking you are young boys and try to take advantage but you need to go out there with no fear and play the normal game you play in the under-20s because that's what has got you there in the first place.
"On the pitch I have learned you need to be confident, you need to be yourself and act as if you're a first-team player like you are, and don't hide away from anything."