John McGlynn sacked by Hearts following St Mirren defeat
The manager has parted company with the Tynecastle club with immediate effect.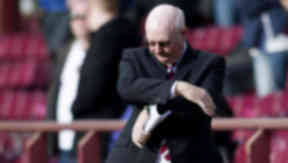 Hearts have announced that they have parted company with manager John McGlynn with immediate effect.
In a statement released by the club on Thursday morning, it was announced that McGlynn had left his position by mutual consent.
However, STV understands the manager was relieved of his duties.
Discussions were held at the top level of the Hearts hierarchy following Hearts 2-0 loss at St Mirren on Wednesday evening. Sources at the club say they were left with no option with McGlynn holding one of the worst records of any manager in the club's history.
McGlynn met with Hearts director of football John Murray on Thursday morning when he was dismissed. He said his farewell to players and staff at their morning training session at Riccarton.
Hearts play Motherwell this weekend but STV has learned that a new appointment is unlikely to be made in the next week. Gary Locke and Darren Murray have been placed in temporary charge of the first team.
The manager leaves Hearts in 11th place in the SPL table.
A Hearts spokesperson said: "When John came to the club, Hearts was embarking on a transitional phase in the club's history.
"He began that important period of change and it is now imperative we find the right man to take the transition forward.
"The over-riding factor in this decision was the long-term well-being of Heart of Midlothian Football Club.
"We would like to thank John for his tireless efforts as manager of Hearts and wish him well with his career. He will be welcomed back to Tynecastle as guest of the club at any time."
McGlynn said that he did not feel any other manager could have done a better job given the financial problems at the club but said that he was disappointed that results had not been better.
"I was very grateful to be given the chance to become the Hearts manager as it was my dream job," he said.
"It was an honour and privilege to serve the club in this capacity and I thoroughly enjoyed working with the players, who have been top professionals.
"It is unfortunate that things didn't turn out the way I wanted them to and I am gutted about that. I am a worker and want to get back into football as quickly as possible.
"I don't think I could have done any more but the league table doesn't lie and I know it is a results-driven business. We had a lot of difficult circumstances to deal with and they have taken their toll in the end but no-one will be more delighted than me if the team can go on and win the League Cup.
"I would like to thank all the backroom staff - the physios, medical staff and video analysis department - also the club's media department and everyone at Tynecastle for being good fellow-workmates."
McGlynn was appointed boss after leaving Raith Rovers in June. He replaced Paulo Sergio as manager following the club's Scottish Cup win.
He led the club to the League Cup final following a semi-final win over Inverness CT on penalties. The capital club will play St Mirren in the final at Hampden on March 17.
However they exited the Scottish Cup following a 1-0 defeat to Hibernian at Easter Road.
First-team coach Gary Locke and player development manager Darren Murray will take interim charge of team affairs.