Hearts will not be relegated by SPL despite parent company 'insolvency'
The league deems there is insufficient information on UBIG's financial situation to punish the club.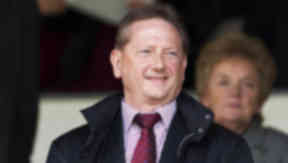 Hearts will not be relegated from the Scottish Premier League as it stands, despite its parent company apparently declaring its insolvency.
The SPL board met on Monday to consider whether UBIG's financial status constituted an "insolvency event" under SPL rules on "group undertakings" relating to clubs.
Hearts feared an 18 point deduction and relegation to the First Division as a result of last Thursday's announcement but the league has ruled that there is insufficient information at present to suggest the club should be punished.
A statement from the league's board read: "The SPL board met today to consider reports from Lithuania in respect of Ūkio Banko Investicinė Grupė ("UBIG").
"The board are not satisfied, on the basis of information currently available to it, that an Insolvency Event (as defined by SPL Rules) occurred in respect of UBIG during season 2012/2013."
Should UBIG's insolvency later be formally ratified, Hearts still face the possibility of relegation or starting the 2013/14 campaign on minus 15 points.
Should more information come to light that UBIG's insolvency occurred prior to the climax of the current season on Sunday, the board may again consider a points deduction which would see them drop out of the top flight.
If the insolvency of the parent company is later proved but is deemed to have happened after the end of the season, a 15 point deduction for next season will be considered.
The SPL are not "actively seeking" further information on UBIG's situation but are in dialogue with Lithuanian lawyers over future developments.
As it stands Dundee, who finished the 2012/13 season at the bottom of the SPL table, will be relegated to the First Division, with Partick Thistle being promoted to the top flight.