Ukio Bankas liquidators want to sell Hearts on to recoup some of £15m debt
Company believes that agreeing a deal on the debt will achieve best result following bankruptcy.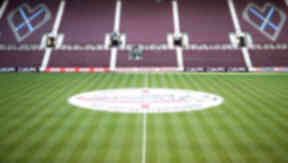 The administrator which will conduct bankruptcy proceedings at Ukio Bankas says he has "no reason or desire to harm Hearts" after a court in Lithuania upheld a decision to liquidate the bank.
The company - formerly controlled by Jambos owner Vladimir Romanov - is set to go bust following the decision by judges in Kaunas at the Court of Appeal of Lithuania.
Hearts owe the bank around £15m, which secured against a claim on Tynecastle Stadium and a 29.9% stake in the Edinburgh club.
But Gintaras Adomonis of accountancy firm UAB Valnetas has today insisted he intends to keep Hearts running as a going concern before selling it on.
In a statement to Press Association Sport, he said: "Ukio Bankas has now to deal with lots of debts and return the funds to its creditors.
"In the ongoing processes we must at all times consider the best interest of the creditors of Ukio Bankas.
"Hearts of Midlothian Plc is one of the companies indebted to the bank. There are several possible alternatives to dealing with this case but our initial assessment indicates that most likely the most extensive return for Ukio Bankas creditors may be achieved by keeping the club operating.
"For now we have no reason or desire to harm Hearts so our primary initiative, having solved the regulatory and other issues, is contemplated to be the sale of Hearts."
UBIG, Hearts' parent company, owns 79% for the club, and Ukio Bankas' claim on 29.9% of the shares comes from that stakeholding.
Adomonis' statement will come as a welcome boost to Hearts, who still have the threat of a winding-up order hanging over their head after HM Revenue and Customs threatened action over an unpaid £100,000 tax bill.
Hearts owe £25m in debt, £10m of which is due to their parent company UBIG - who have claimed insolvency in Lithuania- as well as the £15m due to Ukio Bankas.
The Scottish Premier League ruled last month they were not satisfied UBIG had suffered an "insolvency event" during the season just gone, saving Hearts from a potential points deduction.