Hearts Talk: The latest administration news from all sources
All the latest stories and reaction to news that Hearts are moving to appoint administrators.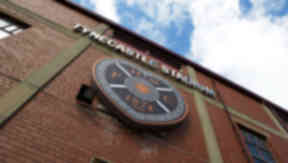 Heart of Midlothian are to apply to go into administration, bringing to a head the financial crisis that has engulfed the club in recent years.
The club has accountants KPMG lined up to take control of its affairs after becoming unable to meet its financial commitments, putting the jobs of over 100 employees in jeopardy.
The situation at Tynecastle has become increasingly complex since the collapse of Vladimir Romanov's business empire and reports suggest there could be a courtroom battle over the administration move.
STV has rounded up all the latest news, comment and reaction from across all sources to keep you up to date with the latest developments on the club's future.
This page will be updated throughout the day as Hearts learn if they are successful in appointing KPMG and what this would mean for players, employees and supports of the Tynecastle side.
Heart of Midlothian Football Club to apply to go into administration
The Edinburgh side has signaled its intent to apply to the Court of Session for administrators to be appointed.
Hearts fear they could be evicted from Tynecastle as Lithuanian firm seek to appoint own administrators
The administrators representing Ukio Bankas may bring a legal challenge to the appointment of KPMG. (Daily Record)
Hearts support fears looming administrationOne of the leaders of a Hearts supporters' group says he still hopes the 139-year-old club will survive after administrators were appointed last night. (The Herald)
MP leading fans' buyout bid admits club has just endured the darkest day in its 139-year history
Ian Murray admits the cost of the club's recent Scottish Cup wins came at too high a price. (Daily Record)
Hearts pay price for craziest years in their historyStuart Bathgate details the road to financial ruin under Vladimir Romanov. (The Scotsman)
Administration news sparks wave of fan reactionSupporters of the Tynecastle club have given their views on the news.
What does the future hold for Hearts as administration looms large?Scotland Tonight discussed these questions with the former Hearts captain Michael Stewart; Ian Murray MP, the chairman of the umbrella fans' group the Foundation of Hearts; Gordon Waddell from the Sunday Mail and the reknowned football commentator Archie Macpherson.
Time has run out but can Jambos rally to the cause?
Former Planet Hearts editor Shaun Milne offers a fan's view of how supporters may greet news of the club's move into administration.