'Vladimir Romanov's conspiracy theories denied Hearts something special'
Charlie Mann, the businessman's former head of PR, says there was a 'car crash' of cultures.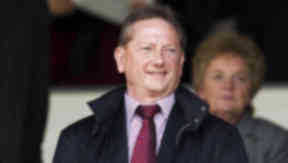 Vladimir Romanov's former head of PR, Charlie Mann, believes the businessman failed at Hearts because of his insistence others in Scottish football were conspiring against him.
The Russian, who has presided over the company operating the club potentially going into administration, became infamous for a number of statements criticising those in power of the game.
"The club were chasing the dream," Mann told STV. "In the early days there were some absolutely fantastic occasions at Tynecastle.
"In the early days of the George Burley reign, fans were signing 'we are unbeatable'.
"Romanov in those days was probably one of the most talked about people in Scotland if not the UK. In Scotland, only the First Minister got more media coverage than Romanov did in those early days.
"It all fell down from there. You can almost take it back to the day he removed George Burley.
"George Burley thought he wouldn't win the league that season but he knew they would go very close. I think there was a real chance in the Burley days were Hearts could have done something very, very special in Scottish football.
"Vladimir just saw conspiracies where there weren't any. He thought people were divvying up results. He thought the referees were going against Hearts. Everything he thought off the field he saw conspiracy.
"That's maybe part of the fact he's from Russia and he was involved in the Cold War. He had a business taken from him by the KGB just like that. That probably did colour his judgment.
"But there weren't any conspiracies. He should have not seen any conspiracies. He should have concentrated on running the football club, getting good people in to manage the club, getting the budget right and winning matches. That's what people want."
Romanov went through 11 managers during his time in power at Tynecastle and Mann believes there was a missed opportunity because he could not find a balance with his Scottish counterparts.
He added: "There was a major clash of cultures. There was a car crash in terms of the way Vladimir Romanov runs his businesses and the way we operate in the UK and particularly in Scotland.
"He expected people to do things his way. He could have come a lot more towards us. We could certainly have gone a bit more towards him. If that had happened, again the chances were there to do something very special.
"The big problem for me was, and still is, I think Hearts had a chance to do something special with Romanov and a properly focused Romanov, and that just hasn't happened."