Gary Locke names 'winner' Danny Wilson as new Hearts captain
Former Rangers and Liverpool man handed the armband ahead of new season.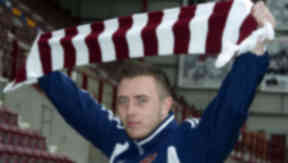 Danny Wilson has been named the new Hearts captain after confirming his permanent deal at Tynecastle.
The 21-year-old Scotland international defender played the second half of last season on loan with Hearts and he will lead out Gary Locke's men next season.
Locke told the official Hearts website that Wilson had the right credentials to lead the squad through the season that will see the Jam Tarts start on -15 points.
He said: "It was a tough decision as the more experienced players have all made huge sacrifices over the summer and showed me the type of commitment I want here.
"I feel Danny is the right man for the job. He has a lot of experience for someone so young, is a good talker and is a quiet lad off the pitch as well which is something you're looking for in your captain.
"It is a big responsibility for him but he has all the right credentials as far as I am concerned.
"He is a winner, commands respect in the dressing-room, which is a big plus, and knows what the club is all about.
"Hopefully he can be the leader of a successful team this season."