Hearts hit with new signing ban by Scottish FA for entering administration
The Edinburgh club has been handed a registration embargo as punishment at Hampden.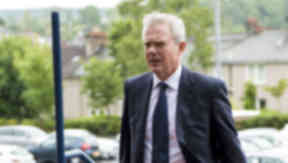 Heart of Midlothian have been barred from registering new players over the age of 21 until February 2014 by the Scottish FA.
The decision was reached at Hampden on Thursday is punishment for the club entering administration.
The embargo will bar the club from recruiting players older than 21 until the end of the January transfer window and means Gary Locke will be unable to add experienced players to his small squad of players until at least February.
An SFA statement said the penalty was "prohibition up until February 1, 2014, of registration of new players aged 21 and over".
It added: "This prohibition will not apply to players currently registered with the Scottish FA as being with the club."
No financial penalty was imposed by the disciplinary panel.
Hearts were represented at the hearing by joint administrator Trevor Birch, of BDO said the decision was "disappointing".
Mr Birch said: "The decision to impose a transfer embargo on players over 21 until the end of January is disappointing.
"Whilst I appreciate that the SFA rules state that clubs in administration will face sanctions, Hearts have already had a points deduction and player embargo – and it feels like we're being penalised twice. That said, these are the cards that we've been dealt and we'll now just have to get on with it.
"At least the decision gives us clarity and means that the bidders can move forward and focus their attention on refining their proposals rather than worrying about possible sanctions."
Hearts entered administration on June 19 as the weight of their debts become too much for the club to continue with.
BDO were appointed with the blessing of the Lithuanian authorities, to whom the club owes around £25m to Ukio Bankas and UBIG.
The automatic sanctions imposed by the SPL, now rebranded at the SPFL, were a 15 point penalty for the season ahead, plus a full registration embargo for the duration of the administration.
There are currently two bidders attempting to buy the club out of administration.
However neither fan-backed Foundation of Hearts, nor Five Star Football Ltd run by former Livingston owner Angelo Massone, have yet been able to agree a deal with the major creditors in Lithuania.