John Sutton completes loan move to Australia
The Hearts striker is joining Central Coast Mariners until the end of the season, STV understands.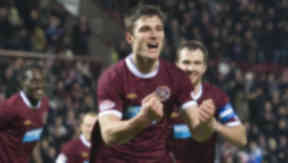 Hearts striker John Sutton has agreed to join Australian A-League leaders Central Coast Mariners, STV understands.
The deal will see the 28-year-old head out on loan for the next four months, keeping him with the Mariners until the end of their domestic season in April and the conclusion of their Asian Champions League (ACL) group stage matches in May.
Mariners coach Graham Arnold told Australian newspaper *The Age *that former Rangers defender Craig Moore had recommended the player.
He said: "The exposure of giving him the opportunity to play in the A-League and also the ACL was very appealing to him.
"He comes with a very good pedigree in Scotland and he is a similar player to Matty Simon, someone that can make us play different if we need to play different.
"He comes out with a record of a goal every two-and-a-half to three games in Scotland and we're looking forward to John coming out and adding not only another set of legs but quite a deal of experience for our front line."
Sutton moved to Tynecastle on a free transfer from Motherwell in the summer. He has made 18 appearances for Paulo Sergio's side, scoring three times.
The player started his career with Tottenham Hotspur, spending time on loan at Carlisle United before moving to Swindon Town.
Sutton then crossed the border in 2003 to play for Raith Rovers and continued to move back and forth between both countries, playing for Millwall, Dundee, St Mirren, Wycombe Wanderers, Motherwell and then Hearts.