Kevin Kyle leaves Hearts
The striker has agreed an early termination of his contract at Tynecastle.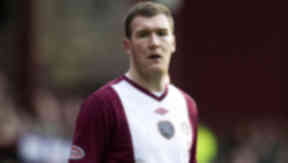 Kevin Kyle has parted company with Hearts after agreeing an early termination of his contract.
The striker, who has been suffering from a hip injury and is now recovering from surgery, was approaching the end of his current deal but has agreed an early release.
Kyle had signed a two-year contract at Hearts in June 2010 after leaving Kilmarnock and scored ten goals in his first 22 matches for the club.
However, the hip injury meant that Kyle did not play after January and has not featured for the club at all this season.
The player admitted that the injury had been problematic but said that he would not rule out winning another chance to play for Hearts in the future.
"I would like to thank the club as a whole for looking after me and trying to get me back fit," Kyle told Hearts' official website.
"I'd also like to thank the fans for taking to me and for making myself and my family feel so welcome during my time here. Their support was really appreciated.
"All going well, when I get back fit, I'll have the opportunity to do a pre-season here in the summer and perhaps earn the chance to play again for the club, maybe on a pay-as-you play kind of deal.
"That's a wee bit in the future but hopefully the fans haven't seen the last of me as a Hearts player."
A Hearts spokesman said: "Kevin has had an horrendous time with injury for the past 12 months or so, which has been really unfortunate for him.
"He is currently undergoing more rehab following his latest hip surgery and we would like to wish him well with his recovery and the rest of his career."