Hibernian confirm they will vote against admitting newco Rangers to SPL
Club say views on sporting integrity mean it cannot vote in favour of Charles Green's newco.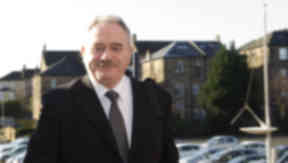 Hibernian have confirmed that they will vote against a proposal to transfer Rangers' Scottish Premier League share to Charles Green's new company.
Club chairman Rod Petrie had previously spoken of his belief that sporting integrity had to be maintained and a statement on Hibernian's official website confirmed the board's decision to vote against the move when the SPL meets on July 4.
The statement read: "Following a meeting of its Board of Directors, Hibernian FC confirmed that the Club will vote against the transfer of the Rangers share in the SPL to a newco at the General Meeting of SPL clubs on 4 July 2012.
"This re-affirms the view of the Board that the sporting integrity of the SPL is of paramount importance.
"The Board is also acutely aware that in making this decision, Hibernian - like other clubs in the SPL - will suffer collateral financial damage at a time of severe economic hardship and uncertainty.
"The Board believes it is time for all fair minded supporters to get behind their clubs and to contribute in whatever way they can to the viability of the professional game in Scotland."
Dundee United and Hearts have already said that they will oppose the move to admit a new Rangers company, while Motherwell will ballot members of fans group The 'Well Society.
Eight of the 12 SPL clubs would have to vote in favour in order for the proposal to be passed.