Rotherham drop interest in signing Hibernian midfielder Scott Allan
Steve Evans says English Championship side will not pursue the 23-year-old any further.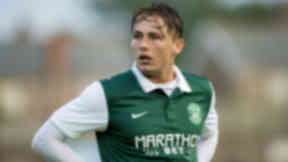 Rotherham United have dropped their interest in Hibernian midfielder Scott Allan.
The English Championship side held informal talks with the Easter Road hierarchy but no formal bid was submitted. And manager Steve Evans has confirmed they will not pursue a move for the player.
"We have removed ourselves from the process in the last couple of hours," Evans said at a press conference.
"I spoke to his representatives earlier today and they made it clear that Scott wanted to stay in Scotland and I don't care if you're Scott Allan or Messi, if you don't want to come to Rotherham United, we don't want you to come.
"It wasn't a case of Rotherham, he didn't want to come to England. I have spoken to Alan Stubbs up at Hibs and I told him what the views were from Scott's representatives and he understands where we are.
"We had a certain value, certainly in excess of £400,000 to bring the young man here, but if he didn't want to come here we have to move on and we will do."
Gary Caldwell's Wigan Athletic retain an interest in the former Dundee United and West Brom man with informal talks taking place after a recent friendly in Spain. As yet the Latics are yet to make a firm offer for the 23-year-old.
Asked if he was confident Allan would remain a Hibernian player at the end of the summer transfer window, Hibernian head coach Alan Stubbs said: "I can answer one that I know. He won't be going to Rangers. I can answer that because I know the answer to that.
"Whatever happens between now and the end of the window, I will respond to that as it happens. As of this moment in time yes I do [think Allan will stay] but we'll see what happens.
"I can't foresee the future. I haven't mastered that yet.
"We'll see what happens and as always we'll be very honest and clear in our answers and how we put it to you."