Alan Stubbs on Warburton 'spat': We're in the entertainment business
Hibernian boss says war of words with Rangers manager has been blown out of proportion.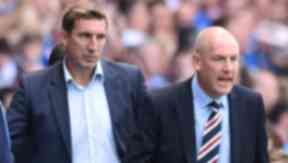 Hibernian boss Alan Stubbs has played down his spat with Rangers counterpart Mark Warburton, insisting the war of words between the pair is all part of football's role in the entertainment business.

The Easter Road side closed the gap on Warburton's league leaders to two points following Tuesday's 2-1 win over Livingston to extend their winning run to eight matches.
With Hibs and Rangers battling for promotion to the top flight, both managers have exchanged in verbal sparring particularly over the reported size of the Ibrox team's playing budget.
The row follows a summer spent in dispute during the Scott Allan transfer saga.
Stubbs admits he smiled after his assistant John Doolan compared the dispute to TV duo the Chuckle Brothers and says there's no needle with the Rangers boss.
"We have to make things entertaining. We're in an entertainment business.
"Sometimes the press can get a bit bored and try to eulogise (sic) a headline, which is fine it is all part of football.
"If we were boring then people would say we were boring, so there's nothing wrong with a bit of hearsay every now and then."
James Keatings' brace ensured the capital club maintained the momentum gathered before the international break and they will aim to continue their winning run when they meet Alloa on Saturday.

Stubbs believes the race at the top of the Championship is intriguing for a number of reasons and he won't discount the chances of some of the league's outsiders.
He said: "The most important thing is you have three or four good teams who are in there. Falkirk are doing fantastically well at this moment in time and they are sitting in behind us and Rangers.
"Everybody is talking about us and they have done fantastic. We are very mindful of everything that is going on and it's what everyone wants so we can't have it both ways."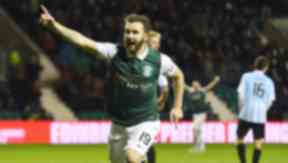 Despite their fine form, Stubbs says his team are only concentrating on their own form rather than worrying about their rivals.

He added: "The message to us is well done. We've won another game of football. We're not sending messages out to anybody, we're sending messages out to ourselves.
"That's the way we're looking at things. The media will perceive it differently but I can assure you that within the confines of the club we are winning games of football for us."