Leigh Griffiths to hold talks with Dean Saunders over his Wolves future
The striker will speak to the Welshman to find out if he has a future at Molineux.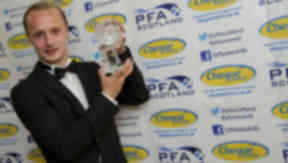 On-loan Hibernian striker Leigh Griffiths says he will meet Wolves manager Dean Saunders next week to find out his future at the club.
The PFA Young Player of the Year has scored 27 times this term to help the capital club reach the Scottish Cup final.
Wolves were relegated to League One on Saturday after losing 2-0 to Brighton. In the aftermath Saunders promised to "make drastic changes" at the club.
Griffiths, 22, told Press Association Sport: "I go to speak to the Wolves manager next Thursday and see what his plans are for next season.
"I don't know what those talks holds but I know I will go down there and return in high spirits.
"The manager will want to bring in his own players and if I am part of his plans then great but if not then obviously I will need to see what happens.
"I will come back up here and I will have some important games to play for Hibs."
Before the campaign is over, the former Dundee and Livingston forward has targeted a goal-scoring milestone.
"I am absolutely delighted," he added. "It has capped off a dream season for me.
"I was very nervous listening to the nominations and when my name got called out my stomach kind of fell out of me but I am delighted to get the award.
"I was handed the number nine shirt, something I had been dreaming about since I was a little boy and I have scored 27 goals and now I want to get 30 and try to win the Scottish Cup.
"It is going to be a hard game. Celtic aren't the champions for no reason, they don't go and beat the world's best team (Barcelona) if you are not a good team yourself but we are capable of beating them.
"We have proved that this season already and hopefully we can do that on the day."