Rowan Vine issued with notice of complaint over Twitter comments
The Hibernian striker has until November 15 to respond to the Scottish FA charge.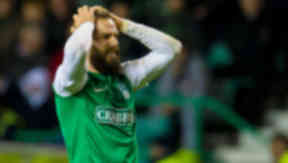 Hibernian striker Rowan Vine has been issued with a notice of complaint by the Scottish FA over Twitter comments over Celtic manager Neil Lennon.
Vine has been cited for an alleged breach of Disciplinary Rule 82, "making offensive comments on Twitter suggesting the use of violence."
The Englishman has until Friday, November 15 to respond with a hearing date has been set for Thursday, November 28.
Asked about Vine being charged, Lennon said: "I am not surprised. I have been up before the authorities for tweeting myself so I am not surprised.
"I don't know if he will get any punishment or not, we will have to see what the hearing brings."
The forward was irked by Lennon's criticism of Hibernian's tackling during the 1-1 draw in October.
The Hoops boss described Vine's tackle on Darnell Fisher during the game as "rugby-esque", prompting a series of Tweets from the former St Johnstone man.
Vine tweeted: "Read Sir Neil Lennon's comments regarding tackles in y'days game and said my tackle was 'rugby-esque'..I mean I know he likes the snus....
"But has he been smoking something else..I hardly touched the boy and there were no 'reckless' tackles in the game..
"Might get me mate Alan Shearer to send him another size 9 Umbro Speciali in the dish if he don't pipe down..."
Lennon later tweeted Vine, asking: "Did I read that right?"
Rule 82 states: No recognised football body, club, official, Team Official or other member of Team Staff, player, match official or other person under the urisdiction of the Scottish FA shall in an interview, a 'blog' on the internet, on a social networking or micro-blogging site, or in any other manner calculated or likely to lead to publicity, make comment(s) of a discriminatory or offensive nature based on, but not limited to, race, ethnicity, religion, gender, sexual orientation or disability, or that endorse or encourage foul play or are otherwise offensive. There shall be a presumption that any material published in such a manner was published in the name of and/or with the authority of the person or body bearing to have published the material.