Ross Tokely angry at 'disrespectful' treatment from Inverness CT
The defender has ended his 16-year stay with the Highland club.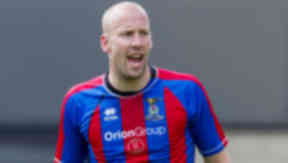 Inverness Caledonian Thistle defender Ross Tokely says he would rather have been released than receive a contract offer from the club which he claims was 'disrespectful'.
The 33-year-old ended his 16-year association with the Highlanders after turning down their one-year contract offer.
Tokely first joined the club in 1996 but says he didn't want to stay to sit on the bench.
And speaking to national newspapers, he claims the money on offer made him feel like he wasn't wanted by manager Terry Butcher.
He said: "The manager left the offer with me. I got back to him and said I wasn't happy and asked if he could improve it.
"He texted me saying his hands were tied and he couldn't.
"A year's contract was fine – I wasn't looking for anything else. It was the massive cut I was going to take.
"I just felt it was a very disrespectful offer after giving the club 16 years' service.
"I'd rather have been released than made an offer like that. At least, then, I might have had a chance to say goodbye to the fans."