Inverness CT become latest club to confirm they will say 'no to newco'
Chairman Kenny Cameron said he listened to fans to come to the decision.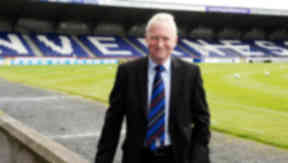 Inverness Caledonian Thistle have become the fourth SPL club to confirm it will vote against a newco assuming Rangers membership in the league.
The Highland side will vote no to the proposal at the SPL general meeting on July 4.
Club chairman Kenny Cameron made the decision after listening to fans of the team, and said that supporter pressure helped him to reach a conclusion.
Mr Cameron said: "It is fair to say that in excess of 95 per cent of them raised the issue of sporting integrity as the reason why they don't want the newco to be admitted and had not yet renewed their season tickets.
"Financially, we examined the various scenarios and, frankly, none of them were positive for our club, it is extremely disappointing to be adversely affected by something not of our doing, unfortunately this is a similar situation for the rest of the clubs in SPL.
"We have also been contacted by supporters of various other SPL clubs, saying they would not be back to Inverness if we did not accept that sporting integrity was what mattered, but this is something that we had already considered and it is not only the integrity of the SPL that is at stake but the integrity of Scottish football.
"It is quite clear, that supporter opinion in Scotland overwhelming supports that view. Supporters are the life blood of any club and we would have been foolish not take on board their opinions on this matter, they are our customers and any business that ignores the views of it customers does so at its peril."
The chairman went on to say that a "substantial amount" for Caley Thistle fans had withheld their money from buying season tickets and has now called on the fanbase to put their money into the club after their wishes were heard.
Mr Cameron said it was time to rally round and help Inverness for the season ahead.
He added: "We have listened to all our customers and taken the decision and we now look forward to their support going forward.
"Our sympathies go to the many small businesses in and around Glasgow who have or will suffer through no fault of their own and the Rangers supporters who are not to blame for their club's difficulties but have also found themselves out of pocket through the actions of others.
"We would be in a completely untenable position, financially and morally, if we defied the overwhelming demand of our own paying customers who are, after all, what Caley Thistle are all about."