Inverness Caledonian Thistle announce loan partnership with Arsenal
Striker Philip Roberts is heading north as part of the new arrangement with the Gunners.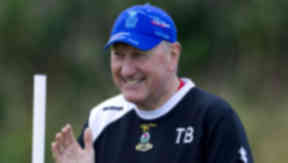 Inverness Caledonian Thistle have announced a partnership with Arsenal which will see the SPL side take a number of the English club's young players on loan.
Striker Philip Roberts will move north as part of the deal, joining Butcher's side until the January transfer window.
"Arsenal have agreed to let Philip sign for us until the next transfer window and we're very grateful for their help," Butcher told the club's official website.
"This is the beginning of a partnership with Arsenal that will help their younger players gain first team experience with Inverness Caley Thistle in this season and the future.
The 18-year-old Irishman, signed by the Gunners from Norwich City in 2010, was the top scorer for the London club's Under-18 side last campaign.
Butcher added: "I am extremely thankful to Liam Brady for his first class help and assistance.
"Philip has had a look at our setup, met the lads, and has agreed to join us. He showed good promise when training with us."
Search API will now always return "real" Twitter user IDs. The with_twitter_user_id parameter is no longer necessary. An era has ended. ^TS

— Twitter API (@twitterapi) November7, 2011