Inverness Caledonian Thistle confirm they will vote yes to 12-12-18
Chairman Kenny Cameron says 'this is not a pick and mix vote'.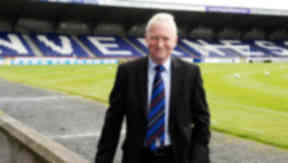 Inverness Caledonian Thistle have confirmed they will vote yes to league reconstruction at next Monday's SPL meeting.
The Highlanders have criticised clubs objecting to proposals to create a single league body and introduce financial redistribution.
Following discussions between the club's board and fans group Caley Jags Together, Cameron says they will back the plans for a 12-12-18 system in time for next season.
Eleven out of 12 top flight sides must vote yes at the Hampden meeting for the motion to pass with SFL clubs set to hold their own ballot on Friday, April 19.
Kenny Cameron said: "I'll be disappointed if the new proposals do not go through, as they deliver most of what the supporters and the majority of clubs want.
"The set up is far from ideal from an ICTFC perspective but all 42 clubs should get behind the changes proposed with a willingness to work together for the betterment of all clubs in Scotland and the game in general. Let's use the proposed model as a stepping stone on the journey for change, the key that unlocks the door that has remained firmly closed for so many years.
"Make no mistake, it would appear that there is nothing else on the table. Attempting to be selective at this stage of the process is not an option."
He added: "In January the SPL and SFL clubs indicated support for the new proposals. There was almost unanimous consensus and acceptance on the way forward by all clubs and more importantly an appetite for change.
"Change is something that has been continually thwarted in Scottish football, yet we find ourselves in a situation where new proposals, that would go a long way towards avoiding another Dunfermline Athletic situation, are sadly, in danger of being parked up once again, this begs the question, why?
"For instance, under the current model the 1st Division Champions receive £68,000 – but would receive £387,000 under the new proposals. In addition the overall financial model demonstrates that the club finishing 24th in the proposed set up would get almost £20,000 more than this year's 1st Division Champions if the all through model is approved.
"This is something that alleviates some of the current issues of trying to remain a full time club in the 1st Division and the problems that ensue as clubs try to achieve this. Having experienced relegation in season 09/10 we know firsthand the financial damage that can be inflicted on any club being relegated under the current format and we were fortunate enough to gain promotion in one season.
"We would simply be sleepwalking into the status quo. Our club's favoured option is a larger SPL but we are well enough informed to appreciate that this is a non-starter as far as getting enough votes from other SPL clubs is concerned, but who knows what the future may bring.
"The numbers just don't add up, so a vote against 12-12-18 this time round would be a vote for the same again. That's also true as far as SFL clubs are concerned. This is not a 'pick and mix' offer that is on the table but one requiring a straight yes or no."
A recent survey showed supporters were in favour of bigger leagues in Scottish football. While acknowledging the new proposals don't provide that, Cameron believes fans will see benefits if the changes go through.
"The majority of these requests are delivered by the new proposals, a larger top league being the only omission, he said
"Some 85 per cent of what fans asked for is being offered. But defeat for the new proposals could mean defeat for all the elements of change, which is surely a step backwards.
"If the SPL gets its fingers burned this time, having come such a long way, then my fear is that it may be years before we come so close again.
"Clubs are fully entitled to their views, which must be respected -- but they should be very clear that if they vote down this plan then we're looking at the status quo next season, and possibly for several seasons to come."