Terry Butcher has sympathy with Neil Lennon over touchline ban
Terry Butcher feels that the punishment given to Neil Lennon sets a dangerous precedent, and not just for managers.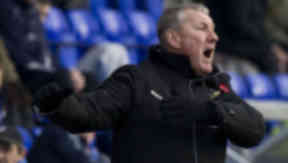 Inverness Caledonian Thistle manager Terry Butcher believse the SFA was 'wrong' to discipline Neil Lennon for using offensive language, claiming even officials swear on occasion.
The Celtic boss was found guilty of the charge following an incident with St Mirren captain Jim Goodwin during the 1-1 draw last month.
Butcher, who himself was cleared of breaking part of the dugout at Dens Park, says that it is not just managers and players who will have to watch their tongues when out on the pitch.
He said: "I better watch my language in the dug-out as well. I better not punch any holes or dislodge the Perspex of the dugout like I did at Dundee either.
"My case has been dismissed because of a complete lack of evidence but not so for Neil and I feel very sorry for him.
"I don't know anybody, apart from (Ross County's) Derek Adams, who doesn't swear on the sidelines. Even some of the match officials swear, because it's appropriate at the time."
Lennon was found guilty after being investigated by Vince Lunny, following a complaint by two supporters, and Terry Butcher is wary of retrospectively punishing people in such a manner.
He continued: "It's now one of those situations where you don't know who is watching you, who is listening to you.
"Managers and coaches are coming under far more scrutiny than they ever did before."
Butcher also pointed to the fact that it was acceptable for certain supporters to say what they wanted on from the stands, while managers needed to be completely restrained.
"It's a passionate game, an emotional game. Within certain boundaries people should just accept that there is going to be that type of language. You should hear the language that is directed against managers on the sidelines. That's pretty horrific.
"As soon as a manager steps out of line by saying one or two things then he gets done and I think that's wrong."
The Inverness Caledonian Thistle manager maintains that it should not be up to the police, but rather to match officials, to ensure that everyone involved in the game remains relatively respectful.
He said: "I don't always swear. Sometimes I swear at my own crowd, which isn't always good. But those days are gone.
"You are trying to get your point across and sometimes you use language that enforces the point that you are making.
"Let's face it, the referees and the fourth officials have the situation well under control and they don't take any action. If they don't take any action then I don't see why anyone else should."