Inverness move for striker Jean-Christophe Ayina will come down to finances
French attacker impressed John Hughes but deal rests on the player's demands.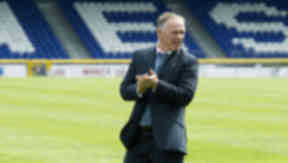 Inverness manager John Hughes admits it will come down to finances whether or not Jean-Christophe Ayina becomes his first summer signing.
The 23-year-old former Paris Saint-Germain B striker has completed a week-long trial and impressed Hughes in training.
The Caley Thistle boss would like to give Ayina a deal but admits the move will come down to the player's demands.
Hughes said: "He was with us for a week and is now away back home.
"He acquitted himself very well though he was a wee bit behind in terms of fitness.
"He played 90 minutes against Clach after training in the morning so that was a wee bit unfair to him.
"But we saw enough of him in that match and the training games to see he would be a good addition to the squad.
"It all comes down to finance though and if it's not him, it will be someone else."