Kilmarnock chairman defends abstention in Rangers newco SPL vote
Michael Johnston says new signings will have to be put on hold at Rugby Park.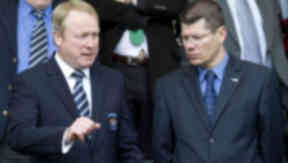 Kilmarnock chairman Michael Johnston has defended his decision to abstain from the Rangers newco vote after criticism from the club's supporters.
Johnston didn't follow ten other SPL chairmen who voted against Charles Green's application for Sevco to assume Rangers' SPL share.
The Killie Trust released a statement on Thursday disassociating themselves from his actions, adding they felt they had been misrepresented by the club's majority shareholder.
However in a statement Johnston claimed just over a third of all shareholders and season-ticket holders had voted 'no' in a formal consultation, although it was unclear how many had responded.
He added: "I also believe that the plan to parachute Rangers 'Newco' into SFL1 is highly controversial and wished to register my concern about the timing of the SPL vote and the resultant pressure now placed on the SFL clubs to accommodate 'Newco' in SFL1 when they vote on the issue on July 13.
"If the SPL can't function in its present form without four Old Firm derbies, then the SPL should have come up with a solution rather than passing the buck to the SFL."
The Rugby Park chairman also revealed the effect the absence of a Rangers newco would have on his club on the field.
He told Daily Record: "The first thing that will have to happen is new signings are put on hold. Now we won't have the squad the manager and I had hoped for.
"I need to make savings of £300,000 overnight as a consequence of not having Rangers newco in the SPL."