Gary Locke hopes to have Killie contracts resolved before January
Conrad Balatoni, Craig Slater, Greg Kiltie and Rory McKenzie are among those soon out of contract.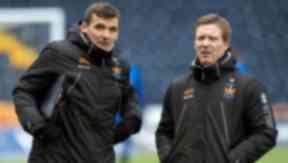 Gary Locke hopes to have the future of Kilmarnock's out-of-contract players resolved before the January transfer window opens.

Craig Slater, Conrad Balatoni, Greg Kiltie and Rory McKenzie are among those out-of-contract over the course of the season.
The Killie boss remains confident that those players are enjoying their time with the Rugby Park club and hopes to have them signed up on longer deals soon.
"We're trying, but it's difficult," he said. "We've spoken to numerous players over the last couple of weeks and we just hope that they see themselves as Kilmarnock players for the foreseeable future.
"I certainly feel that they're better staying here and playing, that's maybe being a bit selfish, but if they're going to then go at the right time."

"We've got a really young team here with a lot of talented young players and hopefully they all see their futures with Kilmarnock.
"We don't have a time scale, but obviously we'd like to know pretty soon because the January window is coming up and we'd like to know where we are with our squad.
"I'm quietly confident that the lads are enjoying it here and are enjoying the training, and getting better which is the most important thing."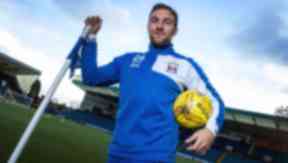 Balatoni's short-term contract with the Ayrshire side expires in January, and underlined his own personal improvement since joining Killie.

"After coming here I managed to get my fitness up fairly quick and I've got into the team, and I think I've gone from strength to strength," he said.
"My match fitness improved, it took me a couple of games to get going, but I feel like I've really helped the team progress."