Conrad Balatoni extends Kilmarnock contract until end of season 2017/18
The defender has impressed since joining the club in September on a short-term deal.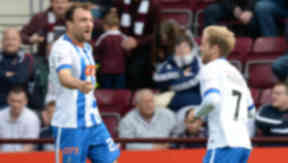 Conrad Balatoni has signed a two-and-a-half-year contract extension with Kilmarnock that will see him remain at Rugby Park until the end of the 2017/18 campaign.
The defender joined the Ayrshire side on a short-term deal in September but has impressed with eight starts and an equaliser against Hearts in the Scottish Premiership.
He has managed to secure his place in the starting XI as the side look to battle their way out of the relegation zone.
"I'm thrilled to have signed a long-term deal with Kilmarnock," he told the club's official website.
"Since joining in September I've settled in well. I managed to get my fitness levels up quickly and then get a lot of first team game time under my belt, which is what I was hoping for.
"I'm enjoying the style of football that Gary [Locke] is developing. I really feel that the club is on the verge of achieving something great and I want to be part of that."
Kilmarnock boss Locke added: "I'm delighted that Conrad has committed to a long term contract with the club. He's done really well since joining so it was important that we get him secured for the future.
"At just 24-years-old, he'll remain at his peak over the next few seasons and it's great that Kilmarnock will get the benefit of this."