Josh Magennis on his journey from warming the bench to Euro 2016
The Kilmarnock striker wants to earn his place on Northern Ireland's plane next summer.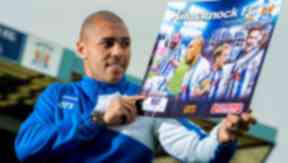 It has been a remarkable 2015 for Kilmarnock striker Josh Magennis as he put some dark days at Aberdeen and St Mirren behind him to become a star for both club and country.
The 25-year-old scored his first international goal to help Northern Ireland reach Euro 2016, the first time they've been in a tournament in 30 years.
Magennis admits the lure of a ticket to France is keeping him on his toes as he bids to be a part of their squad at the end of the season.
He suffered unpredictable days in the Scottish top flight, often as a substitute, before joining Kilmarnock last summer but has since found his feet as a regular starter.
Speaking to STV Sport at the launch of the 2016 Kilmarnock calendar, he says he's looking to build on his triumphs this year and add to his six goals so far this term.
Kilmarnock earned a goalless draw away to Celtic at the weekend and are maintaining a gap between themselves and bottom-placed Dundee United, stretching the difference to eight points.

He says his confidence is at an all-time high because of the faith both Gary Locke and Michael O'Neill have shown in him.