Kilmarnock's Paul Heffernan welcomes competition for attacking places
The Irishman says he isn't worried about losing his place to Kris Boyd.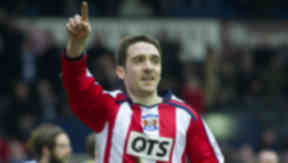 Kilmarnock striker Paul Heffernan says he isn't concerned by the addition of Kris Boyd, instead welcoming the competition for attacking spots at the club.
The arrival of the SPL's all-time top scorer to Rugby Park sees him fight for a place with the former Sheffield Wednesday man and fellow Irishman Cillian Sheridan.
However Heffernan, who has scored 12 goals in 23 games, hopes he can form a partnership with Boyd.
Former Rangers player Boyd scored in the midweek under-20s match against St Johnstone and could start against their senior side at McDiarmid Park this Saturday.
Heffernan told Press Association Sport: "I don't think Kris' arrival puts any more pressure on me. Kris is a good player but so is Cillian Sheridan, while we've got Willie Gros and Rory McKenzie too.
"Boydy has come in and I'm sure he will want to play games - but just like all the strikers will want to do.
"It's good competition and I'm sure a lot of teams in the SPL would like to have that kind of competition for places.
"We've not been on the pitch much together so far but hopefully if we do get to link up we can get a few goals and start off on the right foot."
The 31-year-old's first appearance of the season came against the Perth side in October after he broke his collarbone in pre-season.
He said: "It was very disappointing for me at the start of the season. A week before our first game I broke my collarbone.
"So I missed the first 10 weeks of the season, which was hard as I'd missed the tail end of last season. How am I as a patient? Terrible. I'm terrible at watching the games.
"Everyone says that but it is so frustrating sitting there, you feel helpless. You don't feel part of it sometimes. Even when you are back in doing light training you feel better because you are in with the group again.
"Hopefully that is all behind me now. I do feel like I'm back up to speed now and I've had plenty of games and I've managed to get a few goals, so I'm happy with how it's going."