Kenny Shiels: 'Kilmarnock and Hibs had to abandon match as mark of respect'
The SPL match at Rugby Park was suspended after a supporter took seriously unwell.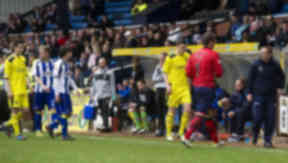 Kilmarnock manager Kenny Shiels says he and Hibernian boss Pat Fenlon were both in agreement to abandon their SPL match at Rugby Park after a supporter collapsed.
The supporter took unwell in the East Stand of Kilmarnock's Rugby Park ground shortly into the second half with the score at 1-1.
Medical staff from both clubs helped paramedics before an ambulance drove pitchside ten minutes later to transfer the supporter to Crosshouse Hospital.
Last season an Inverness Caledonian Thistle fans collapsed and died in the stadium's Frank Beattie stand.
And in March 2012, Kilmarnock's League Cup-winning celebrations were cut short after the father of midfielder Liam Kelly died.
Shiels said: "We need to show respect to the relevant families and we don't know what the outcome is.
"As you know we have been through that three times in just over a year. An Inverness fan lost his life and then Liam Kelly's father.
"Football is not as important as human life so we have shown our respect and hopefully everything turns out okay.
"I heard the supporters shouting to kick the ball out and then we have seen our medical team going across and we found out what it was.
"The fourth official came and told me we need to stop the game."It seems to be pretty serious, a heart attack we were told.
"We waited a while to see if they could bring him round and continue the game but obviously it was quite serious so Pat Fenlon and I both agreed that the game should be abandoned.
"We were asked for our views on it, the officials and the match delegate (Frank Coulston) were very good.
"There is no decision (about replayed game), we are thinking Wednesday week, the 15th of May, that is not a definite but the most likely date."