Livingston's band of brothers make footballing history
Triplets Devon, Sheldon and Kyle Jacobs, together with older brother Keaghan, all took to the field in Livi's 2-0 win over Albion Rovers on Tuesday night.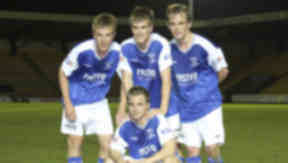 Livingston created a moment of football history on Tuesday night by becoming the first known professional football team to field four brothers at the same time. The Jacobs triplets – Devon, Sheldon and Kyle – joined older brother Keaghan on the pitch in the Third Division champions 2-0 home win over Albion Rovers.
The South African-born quartet, who moved to Scotland in 1999 because of their father's employment, have played together on a number of occasions in the West Lothian club's youth team but have become the first band of four brothers to play at senior level in the same team.
The previous record for the most brothers to play in one team is believed to be shared between former Rangers striker Rod Wallace and his siblings Danny and Ray. The trio all took to the field for Southampton in a match against Sheffield Wednesday in October 1988.
The 18-year-old triplets were originally signed to Rangers before being released in 2008, leading to them being snapped up Livi and joining older brother Keaghan, 20, on the books.
Devon originally left Almondvale in the summer amid the uncertainty over the club's future but returned after Gordon McDougall was installed as chairman, reuniting him with his brothers.
Sheldon was the last of the four to break into the first team, with Devon having made his debut at right-back in March and Kyle making the breakthrough earlier in the campaign. Keaghan has been involved with the first team since November 2007 when Mark Proctor gave him his debut in a Scottish Cup match against Alloa Athletic, an opportunity he repaid with a goal.
The four were honoured for their record-breaking achievement by being named as the joint winners of the Man of the Match award in the game, which Livi won thanks to goals from David Sinclair and an own goal from Michael McGowan. Keaghan, Kyle and Devon had all started the fixture, with Sheldon introduced for Bobby Barr midway through the second half.
All of the Jacobs brothers are all eligible to play for Scotland under schooling rules introduced in recent years, under which Celtic's Somalian prospect Islam Feruz plays for Scotland at youth level. 
None of the four have been given international honours but Keaghan has expressed an interest in turning out in dark blue, with under-21s coach Billy Stark admitting in December last year he was interested in giving the midfielder a call-up.