SFL board member admits it looks too late for league re-shuffle
Livingston's Gordon McDougall says he cannot plan ahead for next season with current uncertainty.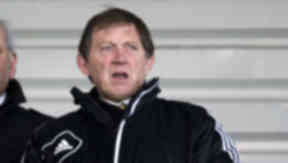 SFL board member Gordon McDougall admits it is looking too late for league reconstruction to be finalised in time for next season.
Asked what his preferred solution to the discussions between the SPL and SFL would be, the Livingston chairman said he was in a "difficult situation" due to his roles with the club and the league body.
When questioned on if it was too late to get reconstruction approved for 2013/14, he said: "I think it is."
As he unveiled new manager Richie Burke, McDougall said it was impossible to plan ahead for next season.
McDougall said: "Football's not in a good place in Scotland at the present time but we're all optimists in this game.
"I don't know what's going to happen with league reconstruction – we've just got to concentrate on our own situation.
"Nothing to do with managers or anything like that – we just don't know the way forward.
"We can't plan for season ticket sales, we can't plan for anything."