Hearts boss hopes fans understand decision to field kids in Livi defeat
Robbie Neilson insists club wanted to use Petrofac Training Cup as 'development opportunity'.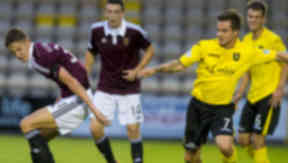 Hearts head coach Robbie Neilson has defended his decision to make ten changes to his starting line-up in the team's 4-1 defeat to Livingston.
Jordan McGhee was the only survivor from Sunday's Edinburgh derby as five made their debuts for the Tynecastle men.
Liam Smith, Liam Gordon, and Angus Beith, all 18-years-old, plus 17-year-old Liam Henderson, all took their bows from the start, with Robbie Buchanan, 18, Alistair Roy, 17, and 16-year-old Sean McKirdy, making their debuts from the bench.
The game ended in ignominy for the Championship title chasers as a slick Livi unit put four past Lee Hollis in goals, but Neilson was unrepentant, feeling giving teenagers their first taste of first team action was worthwhile.
He said: "I was disappointed with the scoreline but we're a club that's here to develop players and the only to develop them is by playing them.
"It would have been the easiest thing in the world to come here tonight and put out our Nicholsons, our Kings and Wilsons, but gibing guys like Liam Gordon, Liam Smith and Angus Beith gametime means they have all now made their debut for Hearts.
"They now have that experience that they can hopefully develop from."
Hearts were backed by a traveling support of more than 3000 at the Energy Assets Arena but they had little to cheer with the youthful side largely outplayed.
Neilson said: "The fans were great, fantastic. They've been fantastic for the last two years and the first games of the season.
"I'm sure they understand that the club now, while it is about winning games, it is also about developing players.
"There is no point in having the great academy we have got if we're not going to play people."
Livingston manager John McGlynn was delighted with the manner of his team's victory as the more experienced hosts punished Hearts' youngsters late in the game.
Jordan White netted twice, with Miles Hippolyte and David Robertson icing the cake before a late Jason Talbot own goal gave the visitors a consolation.
video referenceId="football-20140821-livi-mcglynn-b"
Former Jambos boss McGlynn said: "We were focused to play against whatever team Hearts put out.
"It was a very young side and it would be easy to take your eye off the ball and maybe come a cropper. But in the end we came through with flying colours.
"I expected Hearts to play a stronger team. It was mentioned that Robbie would rotate his squad but I didn't think it would be to that extent.
"There's no doubt when they come here in a league game [they'll have a stronger squad] and we'll be ready for that.
"I don't think we'd win that one 4-1, but we'll see how it goes."